Kitchen Cabinets in Singapore
The kitchen cabinets in your home are honestly the stars of your kitchen. They take up a good portion of the space (and your budget) and thus need to be absolutely perfect when you're choosing them. It's challenging to find the perfect kitchen cabinets made from original material in the markets of Singapore. In this article, we provide to you essential information and tips about purchasing, renovating, and selecting the best kitchen cabinets for your beloved kitchen.
Read on to find out:
Types of Kitchen Cabinet in Singapore
You can buy 3 types of kitchen cabinets, namely: the stock cabinet, semi-custom cabinet, and the custom cabinet.
1. Stock kitchen cabinet
These types of cabinets are ready-made products and are mass-produced for customers. Normally, you can get them available in store as a quick and budget-friendly option anytime.
2. Semi-custom made cabinet
This is similar to a stock cabinet; however, you can partially customize the size too. Also, the customers can add their very own choice of wood.
3. Custom made kitchen cabinet
You can enjoy full freedom when making custom made kitchen cabinets in Singapore. Select the materials, styles, and dimensions as well in the way you would like them made. Custom cabinet options can be an expensive and lengthy process when compared with the other options, however, they are perfect for producing the perfect cabinets of your dreams.
Types of Kitchen Cabinet Materials:
Choosing the right material can either make or break your entire purchase. Select materials depending upon your budget and of course the styles and designs you desire.
Aluminium
If you want to get a modern look in your kitchen cabinets, then aluminium has the most benefits to use for your HDB units. It provides a presentable and standard appearance and will glitter under the lights of your kitchen. Aluminum cabinet is a stainless, rust resistant material and is easy to clean with water. Aluminium cabinets are among the most popular option in Singapore. The material contains many advantages, some of which are noted below:
Lightweight and convenient
Non-toxic and impermeable
Water proof and insect proof
Re-useable and easy to remodel
Keeps food safe when stored in the cabinet
Perfect for a modern home
The safest kitchen cabinet material
Red Oak
This is a strong type of hardwood which is popular for a wide range of styles and finishes. The surface of the Red oak is a grain pattern and the design is mainly used for a conventional style of cabinet. You can use red oak hardwood for custom-made and semi-custom kitchen cabinets. The advantages of the Red Oak kitchen cabinet material is given below:
Red oak is durable and affordable
Available in different styles and finishes
Suitable for custom-made and semi-custom made cabinets
Hardwood
This is a very common and popular material which is used in many HDB units in Singapore, though wooden cabinets are not as superior to their aluminium counterparts. Hardwood provides lots of facilities in the kitchen, but is primarily known for its intense durability.
Kitchen Cabinets Cost in Singapore
If you select a laminated kitchen cabinet, it may start from $75 to $200. Veneer cabinets cost around $90 to $190 each in Singapore. If you want to spend upon an expensive variety of cabinets, your cabinet cost can range around $200 to $350.
Remember however, that the cost of kitchen cabinets can change according to the area of the kitchen, replacement cost, and specific product costs as well.
If you decide to recover or resurface your old kitchen cabinets, you might need to spend between S$300 to S$3500. The cost mostly depends on specific product prices.
Essential Tips for Choosing the Right Kitchen Cabinet Materials
Make sure that the humidity levels in your kitchen room are between 30 and 50%.
You can choose wood such as Mahogany, bamboo sapele, and anaglade to get an exotic and modern look in your kitchen. Cherry wood is perfect for dark and rich finishes.
To select wood materials for your kitchen cabinet, remember that most of the woods can be stained and some are stain-friendly. It will be wise to choose a neutral color that matches with wallpaper.
Most importantly make sure it is a stained kitchen cabinet and is easy to clean, for instance, thermo foil.
If you would like cabinets that give off a cool appearance choose stainless steel ones; note that these are quite expensive as well.
Kitchen Cabinet Renovation in Singapore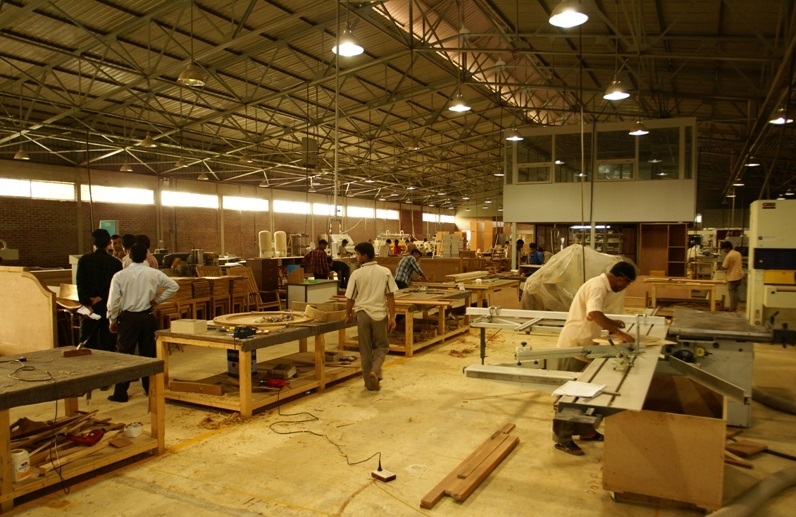 Kitchen cabinet renovation is a common choice of homeowners in Singapore to save cost from the total remodeling. Singapore has many kitchen cabinets suppliers and designers to renovate your cabinet, however, the trick is to select a professional and experienced company. The costs will depend on the level of the cabinet repair.
Check the company's reputation
When choosing, remember to double check the company's premium products and services; you can get many amazing kitchen cabinet experts in Singapore who are able to offer their services for a bargain. The ideal method is to check the company's reputation and track record before confirmation.
Take your time to select a design
Your kitchen cabinet design should match the interiors of your well-ordered home. Do not select attractive designs that don't match your home. A renovator can be responsible for account furnishings, accents, and other related small details as well.
If you want to go for a classic look, then pick antique wood with a bit more cost, or glass materials for elegance. Moreover, you can use textured paint which will give a gorgeous appearance when matched to your kitchen's interior.
Kitchen Cabinet Renovation Cost
When you want to resurface your old kitchen cabinets or wish to recover it with fresh materials, you might need to spend anywhere between S$300 to S$3500. On average, the paint job of a kitchen cabinet can cost you around $1000 and if you choose a cooling-effect paint or antifungal paint, the cost would be even higher.
Conclusion
It is important to choose kitchen cabinets made of original materials that can last for a long time by providing perfect services. Make sure that their paint and design go with the rest of the kitchen's décor. As we said before, the perfect kitchen cabinet manufacturer either make or break your Singaporean kitchen. Choose wisely.